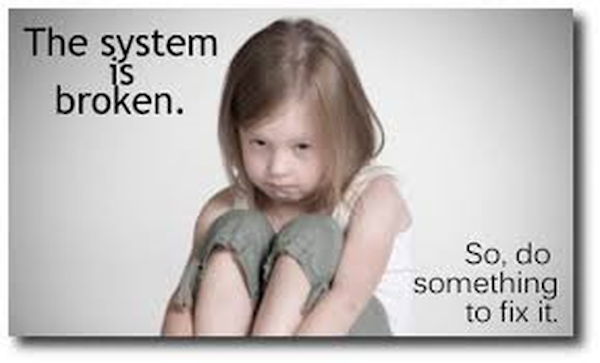 The latest OFSTED letter detailing their inspection findings in December was published recently on their website and can be found Here
I have currently several pieces of open casework which involve children's services and so I read the latest inspection report with great anticipation and the hope that things were moving in the right direction for the children and families involved with this service.
It is encouraging to say that it would seem that this is the case, although it is not racing forward to the finish line of 'Good' or 'Outstanding' but making progress at a sloths pace riding on the back of a snail.
The Labour administration are throwing £25 million at it without seemingly understanding or addressing what appears to be the real problem.
And that is poor management.
The report states,
 "The focus is shifting from social workers complying with minimum standards and procedures to improving the quality of practice for the benefit of children, but this will require wholesale cultural and practice changes."
This needs to be implemented from the top down. Yes, more social workers are needed but permanent ones not interim's or agency staff.
" Overall, inspectors saw improvements in compliance but little improvement in the quality of practice. Of the small sample of cases inspectors looked at, good practice was seen in a minority of cases, and this good practice was largely down to the good work of individual social workers rather than the progress in implementation of the improvement plan."
The high turnover of staff only adds to the issues of the children in care, they  become increasingly unwilling to form trusting relationships with another person when they cannot be sure how long they will be their social worker for.
"One young person said that they had had 36 different social workers."
"In the virtual school an additional senior post was created to focus on improving educational outcomes for all vulnerable children. From September 2017, there has been access to an educational psychologist on one day per week. However, because of sickness, the educational psychologist is not currently working."
This is a worrying statement to say the least.
Why is it that Wirral cannot seem to recruit the right staff?
Is it because of a lack of qualified people available?
It cant be, because it states that we have a high turn over of staff in this area.
So is it the salaries offered?
I believe we offer the standard rates and are even raising the offer to entice staff in.
The only explanation left is the work environment and the way the department and staff are managed and this is evident in the next statement.
"A key shortfall remains the absence of up-to-date assessments for children looked after. These are crucial as their circumstances and needs change over time. Historical concerns are not always appropriately included in forward plans. Risks from, or to, children are not clearly articulated. Senior managers advised that, at the beginning of the year, no children looked after had an up-to-date assessment of need, but there has been recent activity to begin to redress this. None of the tracked cases had an up-to-date assessment, although all the social workers said that they were in the process of undertaking these. The absence of up-to-date assessments blunts the focus, and undermines the effectiveness, of plans and interventions."
which leads to these startling statements,
"Drift in care planning has led to some children ending up in long-term placements by default rather than by good planning."
"For children who have been in care for a long time, deficits in assessment and planning have exacerbated their already traumatic experiences."
"Case files show variable managerial case oversight and staff supervision. Some show frequent oversight while others show infrequent or no electronic records of supervision. "
"Children looked after have access to advocates, but the extent to which they understand and know how to access advocacy is unclear. The advocacy service attended 36 meetings for children looked after in the most recent quarter, offered interventions to seven living outside the borough, and independent visitors were offered to four. Advocates in total offered support to 89 children in the last quarter. However, the data from the electronic case record indicates that only 13 children looked after and care leavers were receiving a service from the advocacy service at the time of the monitoring visit."
Rotherham needed a Government intervention to move it from inadequate to good, I am wondering if we here in Wirral need to follow in their footsteps.